Episode #5 - 1-5
The Loaded Tourist
CAST:
Barbara Bates - Helen Ravenna
Edward Evans - Fillipo Ravenna
Guy Deghy - Oscar Kleinhaus
Joseph Cuby - Alfredo Ravenna
Norman Florence - Carlo Visconti
Michael Ritterman - Galen
John Dearth - Inspector Coudot
Andrew Sachs - Jacques
Raymond Ray - Butler
David Cargill - Garcia
John Gray - Bellhop
Directed by Jeremy Summers; Screenplay by Richard Harris
STORY:
Simon is at the customs in Rome when he notices a family that seems unnaturally nervous. Later young Alfredo Ravenna is sitting near him in the plane. He tells Simon that the Ravenna family is planning to emigrate to New York. They're staying in the same hotel as Templar in Geneva. In the evening the Saint witnesses the murder of Mr. Ravenna. It seems like the murderer knew exactly what he wanted - Ravenna's briefcase. It contained jewels that were meant as starting money in NY. What's Ravenna's assistant Carlo Visconti's role in this scheme?
NOTES:
* Edward Evans also appears in Episode #113/114 "Vendetta for the Saint"
* Guy Deghy also appears in Episode #39 "The Saint Sees it through", #74 "The Russian Prisoner" (same role) and #113/114 "Vendetta for the Saint"
* Norman Florence also appears in Episode #54 "The Set-Up" and #75 "The Reluctant Revolution"
* Michael Ritterman also appears in Episode #30 "The Romantic Matron"
* John Dearth also appears in Episode #42 "Jeannine"
* Raymond Ray also appears in Episode #36 "Sophia"
* David Cargill also appears in Episode #102 "The Desperate Diplomat"
* This was Barbara Bates' last appearance on the movie or TV screen before her tragic suicide in 1969.
*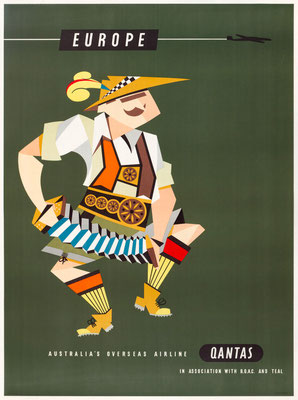 If you want to know more about the stylish airline posters from Qantas that can be seen in the pre-title sequence, direct your browser to Vintage Airline Posters: Propeller Propaganda.
*


A new method for hair growth: a knife in the back!? Notice the change between actor and stuntman. (0:09)
*

We know they couldn't seldom film at original locations; this fake Geneva background still looks fabulous (0:12).
*

The background in this scene is quite obviously a painting though (0:24).
QUOTE:
"If you take a guy with a well-developed sense of suspicion, gice him a five-year course in "How to Make People Blush", you know what you end up with? A customs inspector."
AIRDATE:
UK: 1st November 1962
GERMAN TITLE:
S.T. und der Tourist
AVAILABLE ON:
* DVD (PAL): Carlton 37115 00933 (2001)
* DVD (PAL): Umbrella DAVID0247 (2003)
THE SAINT
www.simontemplar.de

Last Updated: 05/08/2016